A British couple were among ten people killed as flash flooding turned streets in Mallorca into torrents and left hundreds homeless.
Authorities on the popular tourist island said 10 people, three of them foreigners, died after torrential rain deluged the region around the town of Sant Llorenc, about 40 miles east of the capital, Palma.
Antonia Bauza, the deputy mayor of Sant Llorenc, confirmed two of the victims were British nationals.
Two of those killed were in Sant Llorenc, one in Arta and two more in S'Illot. Their bodies are expected to be identified today.
"My solidarity and support goes out to the families and friends of victims and all those affected by these tragic floods", Prime Minister Pedro Sanchez said on Twitter.
The regional government called an emergency meeting and authorities said rescue workers and military units were heading to the area to help. Rescuers with inflatable boats and divers were looking for vehicles that were believed to be dragged by the current into the sea.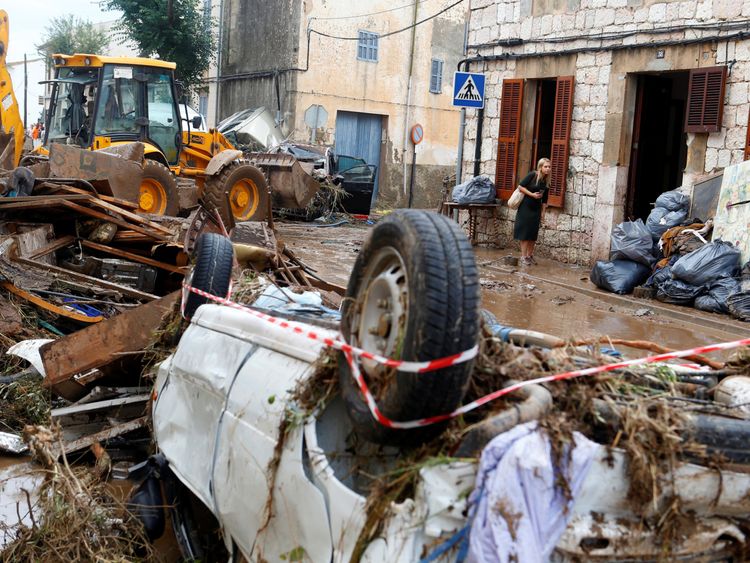 Image Heavy rain and flash floods hit Sant Llorenc de Cardassar on the island of Mallorca Spain
"It all happened in less than 10 minutes", a witness told Spanish TV.
"As far as I know, I have lost everything", she told an AP camera crew.
"We are grateful that we are all alive, but we pray for those that have lost their lives to this huge flood", Oliver said.
In Nadal's latest trip back home he was also seen helping to clear mud off the streets. In all, more than 500 people helped with rescue and cleaning up operations, authorities said. The flooding also affected phone communications and forced the closure of at least seven major roads. Spain's AEMET national weather service said that the probability of such an event "is one in a thousand years".
Footage broadcast on Spanish television showed raging, muddy waters rushing down roads, houses flooded and vehicles piled on top of each other after the Mediterranean island was pounded with heavy rain in just a few hours.